Bitcoin Targets $50,000 But Profit-Taking Looks Imminent
Key Takeaways
Bitcoin is heading into the green after breaking above $45,000. 
On-chain data shows that the asset could advance to $50,000 with little opposition.
However, one technical indicator suggests that a spike in profit-taking is underway. 
Share this article
Bitcoin has stolen the crypto spotlight as its price surged by more than 5.5% following Monday's open. The sudden bullish impulse took many investors by surprise given gold's significant losses within the same period. 
Bitcoin Takes Aim at $50,000
Bitcoin looks like it could be headed towards $50,000 after another bullish move.
Recent transaction history shows that Bitcoin sits on top of stable support. 
Based on IntoTheBlock's In/Out of the Money Around Price (IOMAP) model, nearly 560,000 addresses have previously purchased more than 580,000 BTC between $43,150 and $44,540, and over 1 million addresses have bought 700,000 BTC at an average price of $39.650. Such big demand barriers could potentially have the strength to contain prices from a steep correction in the event of a sell-off. 
Moreover, there is no major supply wall ahead of Bitcoin. The IOMAP model reveals that the only significant interest area sits between $48,640 and $50,000. At this price point, approximately 550,000 addresses hold nearly 361,000 BTC.  
The fact that the underlying demand zone is more significant than the overhead supply area suggests that Bitcoin can advance further before its next pullback. 
Despite the optimism that the on-chain metrics show, some technical indicators do not look as bullish. 
The Tom DeMark (TD) Sequential indicator has presented a sell signal on Bitcoin's 12-hour chart. The bearish formation developed as a green nine candlestick, indicative of a retracement of one to four 12-hour candlesticks or the beginning of a new downward countdown. 
Now that Bitcoin has met the $46,000 target forecasted by the descending triangle where it broke out on Jul. 26, a spike in profit-taking seems imminent.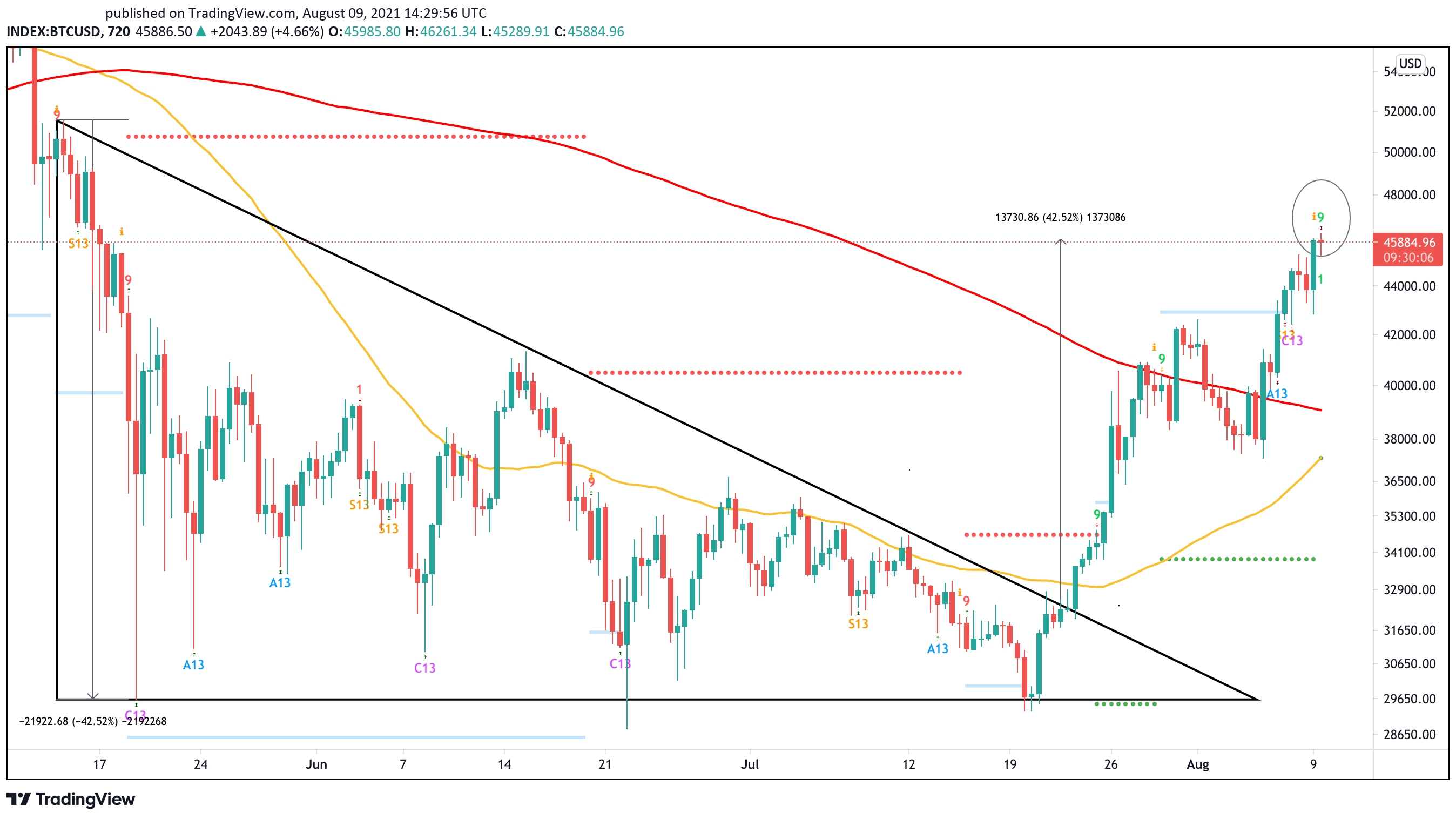 By considering the IOMAP model and the TD Sequential, it is reasonable to assume that Bitcoin could see another leg up before the 12-hour session closes. A considerable increase in buy orders around the current price levels might push BTC toward the $48,640-$50,000 supply barrier. 
Around this price level, investors could expect a rejection that sends Bitcoin to the $40,000 demand wall, confirming the outlook presented by the TD setup. 
Share this article
Grayscale Advances Bitcoin ETF Plans With New Hire 
Grayscale Investments has hired a new global head of exchange-traded funds to lead the conversion of the company's GBTC trust into a Bitcoin ETF.  Grayscale Hires Global Head of ETFs…
Bitcoin Looks Primed to Run to $47,000
Bitcoin has sliced through a crucial resistance level that was preventing it from achieving its upside potential. Bitcoin is Breaking Out Bitcoin looks ready to rally. Doubters have been trying…
What is Impermanent Loss and How can you avoid it?
DeFi has given traders and investors new opportunities to earn on their crypto holdings. One of these ways is by providing liquidity to the Automated Market Makers (AMMs). Instead of holding assets,…
Bitcoin at Make-or-Break Amid JPMorgan Fund Reports
Institutional interest in Bitcoin is on the rise, with JPMorgan reportedly looking to launch an in-house Bitcoin fund for wealthy clients. Meanwhile, the charts show that BTC is at a…