Stellar's XLM Up 14% on MoneyGram Takeover Plans  
Share this article
Stellar's XLM token rallied 14% following rumors that the Stellar Development Foundation has expressed interest in acquiring remittance provider MoneyGram International Inc.
XLM Rallies on MoneyGram Acquisition News
Stellar Lumens looks to have broken out of its downward trend. 
The project's native token, Stellar Lumens (XLM), has risen 14% in the last 24 hours. The asset's jump may be due to bullish news surrounding the Stellar Development Foundation. On Wednesday, anonymous sources told Bloomberg that the group behind Stellar had expressed preliminary takeover interest in MoneyGram International Inc. 
The Stellar Development Foundation is part of the Stellar Network, the non-profit organization behind the Stellar Lumens token. The organization's goal is to facilitate fast, low-cost cross-border payments and remittances using XLM. Stellar is reportedly working with private equity firm Advent International on the acquisition. However, no final decision has been reached yet.
XLM suffered more than most other leading crypto tokens during the recent market downturn, shedding 74% of its value since its May high of $0.78. Despite the decline, the token is still up more than 160% since the start of the current bull market.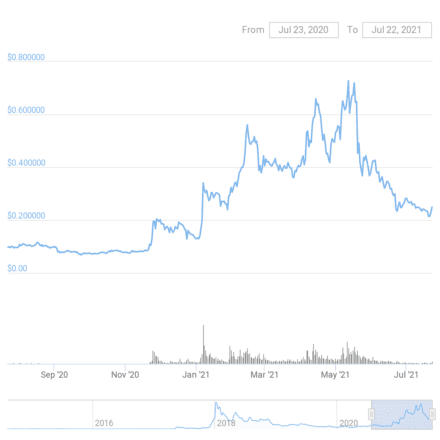 The Stellar takeover rumor is not MoneyGram's first involvement with cryptocurrencies. In 2019, the firm partnered with Stellar competitor Ripple to provide international payment services using Ripple's native token XRP. However, due to Ripple's ongoing regulatory troubles with the SEC, MoneyGram officially ended its partnership with the company earlier this year. 
Disclaimer: At the time of writing, the author of this feature owned BTC, ETH and less than $25 of XLM.
Share this article
What Is Stellar? Introduction To XLM
Stellar is a cryptocurrency that settles financial transactions through a peer-to-peer network. Using its lumens token, it aims to compete with other rapid settlement infrastructure platforms such as Ripple. In fact,…
MoneyGram Is "Now Live" With XRP And Ripple
One of the largest providers of global money transfers is ready for cryptocurrency. MoneyGram, which ranks just behind Western Union in cross-border transfers, is now ready to use Ripple's xRapid…
What Is Ripple? Introduction to XRP and Ripple Labs
What Is Ripple? Ripple Labs is a blockchain business founded in 2012, and is one of the oldest cryptocurrency-based technology companies. It developed the Ripple payment protocol, a transaction network…