These are the top 5 Decentralized Storage Coins to Buy Today
Decentralization is taking the world by storm. It already brought us concepts like blockchains and cryptocurrencies. However, one area that is still gearing up for takeoff is decentralized storage. And, there are now decentralized storage coins available for those looking to invest in building this sub-industry.
As its name suggests, decentralized storage is the act of storing files across different locations with no central repository. The benefits include better security, a simpler encryption process, and a cost reduction.
Decentralized storage is definitely an interesting industry sub-section. Many projects have built their iterations of how this should work, and they have tokens as well that you can invest in. Below, we provide a list of some of the best decentralized storage coins available:
1. Filecoin (FIL)
Filecoin is a decentralized storage protocol that makes it easy for anyone to rent spare storage space on their computer. Anyone can also buy storage space, making Filecoin a global marketplace for storage space.
Created by Filecoin Labs, Filecoin was built on the premise that data demand will continue to rise. Connecting everyone in a global marketplace will make it easier to meet this demand. FIL is the platform's token, and it is usually applied in paying fees and making payments within the ecosystem. Miners can also earn FIL by providing data storage and retrieval services.
FIL is currently the top-ranked decentralized storage coin. It also ranks 25th on the CoinMarketCap charts, with a current market cap of $4.7 billion. The asset has had an impressive year, starting at $23.10 and climbing as high as $237.75. The downturn dragged it to a bottom of $44.12, and it's been on a consolidation since.
The asset's current $58.60 price is a 32 percent increase from its bottom, which came just last week.
Filecoin's fundamentals also look pretty good, with the asset sporting a relative strength index (RSI) of 42.22 – showing it is underbought. It is only a few points off its 20-day moving average (MA) of $62.33, and with the market currently on an upsurge, there is every chance that it will clear that point soon.
Filecoin investors will get a lot of long-term benefits. The asset has gained a lot of popularity this year, as it's been added to the Grayscale Trust. Increased exposure, coupled with the market recovery, should provide a lot of upside for Filecoin.
2. BitTorrent (BTT)
BitTorrent is one of the most popular peer-to-peer file-sharing networks in the world. Its coin, BTT, is a TRC-20 token that was developed by the Tron Foundation after the latter acquired BitTorrent in 2018
BTT powers some of the most interesting products available in the BitTorrent ecosystem. These include BitTorrent Speed, BitTorrent File System, DLive, and much more. Ranked 50th on the CoinMarketCap list, BTT has a market cap of $1.4 billion.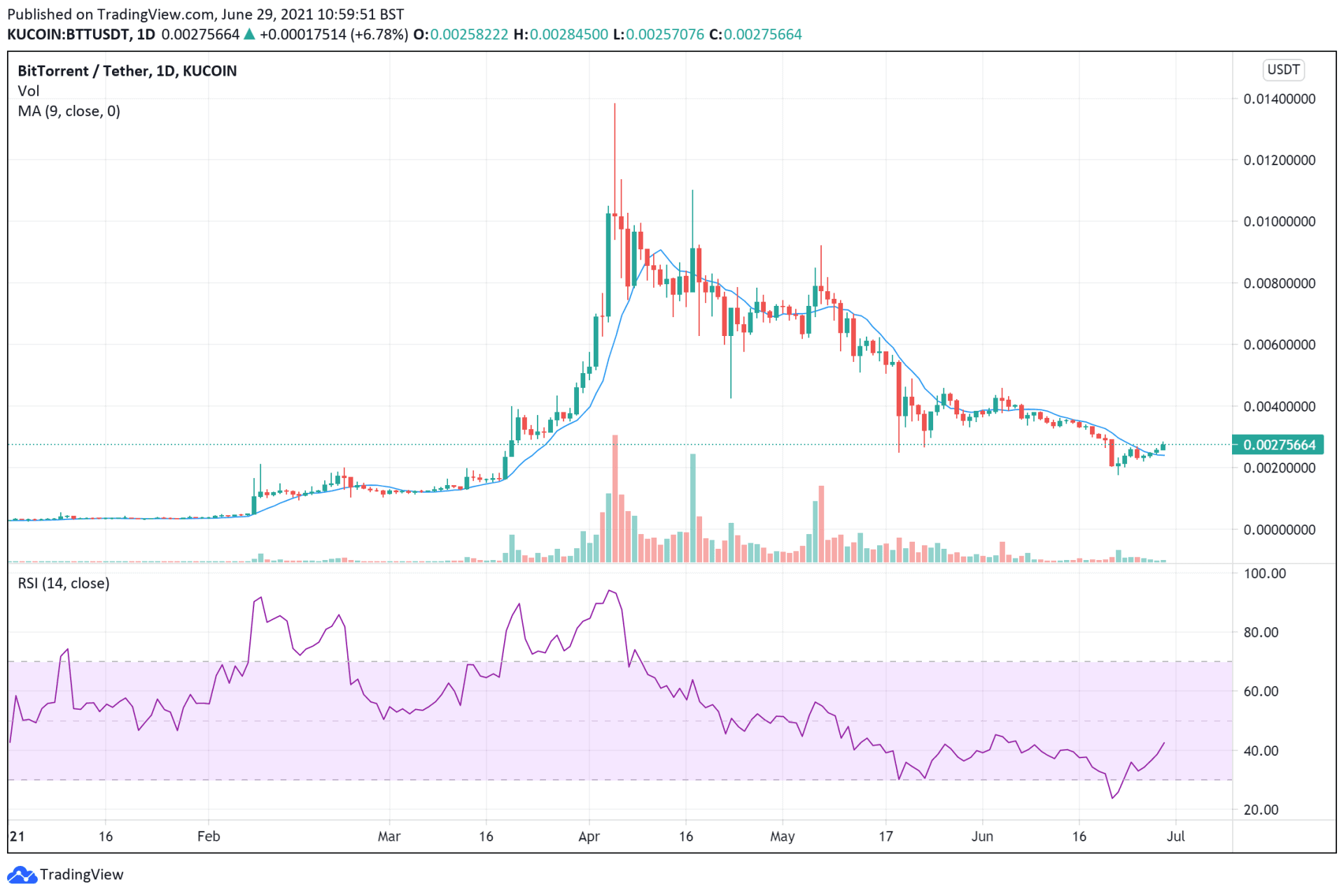 There hasn't been much news about the token, so finding a catalyst for price gains isn't so easy. However, BTT is currently trading at $0.00275 – a 7.69 percent gain in the past 24 hours. The asset is currently looking to consolidate after bottoming out at $0.00171 just last week. All of this is still a long way from its yearly high of $0.013.
Short-term investors will also be happy to know that BTT's fundamentals are strong. It is underbought with an RSI of 43.35, and its 20-day MA stands at $0.00244. So, it is in a good position for some bigger moves in the next 24 hours.
3. Holo (HOT)
HOT is the native token for Holochain – an open-source blockchain that allows developers to build peer-to-peer, fully distributed applications. According to the developers, Holochain is "BitTorrent + Git + Cryptographic Signatures + Peer Validation + Gossip."
Holochain apps are resilient, versatile, and scalable. They are also efficient, and they allow users to enjoy ownership of their data.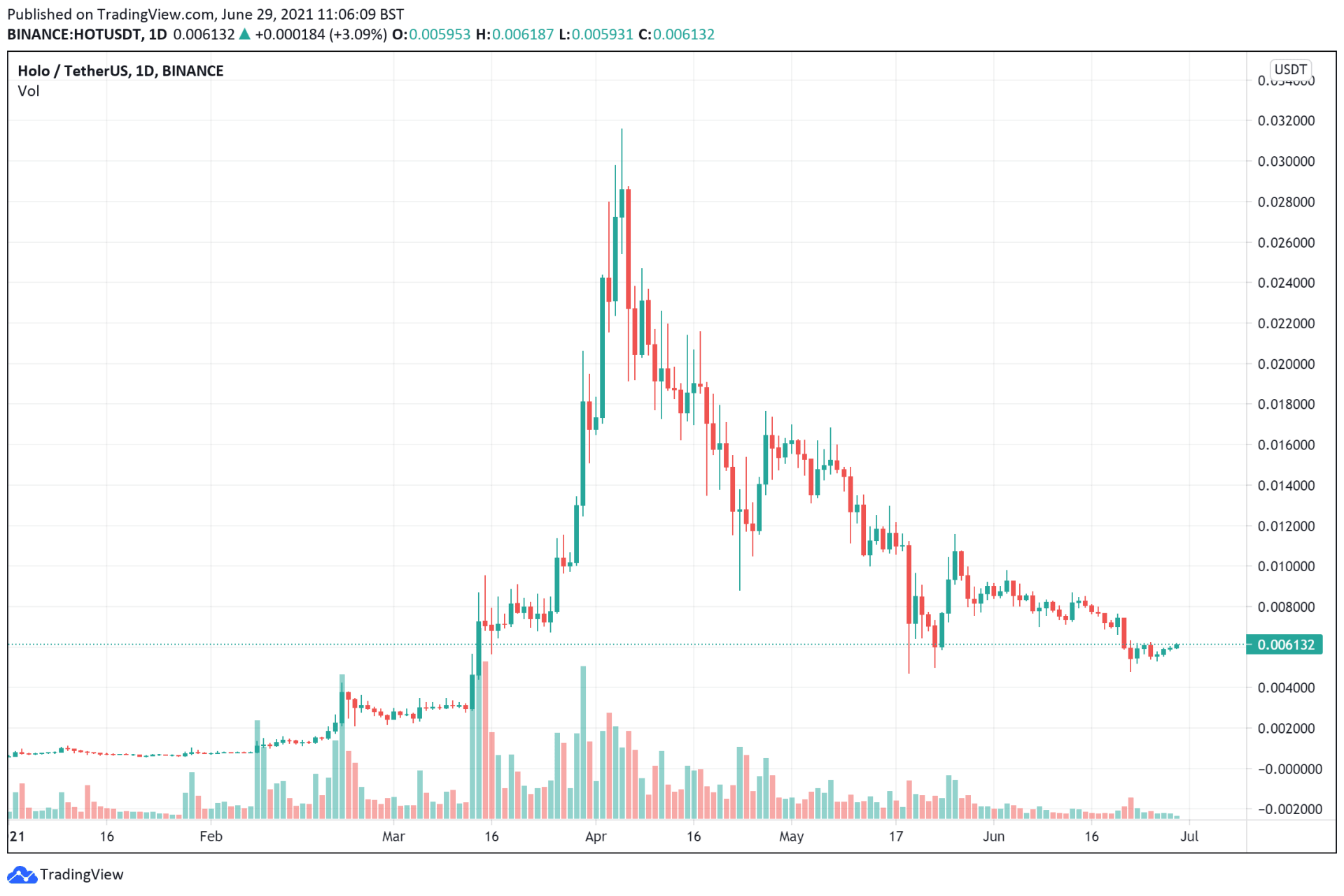 HOT is currently ranked 67th on CoinMarketCap's charts, with its market cap standing at $1 billion. The asset itself is priced at $0.0061, marking a 1.9 percent increase in the past 24 hours. If you're looking to buy decentralized storage tokens for cheap, this is an impressive option for you.
HOT has had an impressive year, rising from $0.00075 to a high of $0.031. Its current price is a 31 percent jump from its downturn-induced bottom of $0.00465, which came last month. With a 40.21 RSI and a 20-day MA of $0.0068, HOT looks pretty strong technically.
4. Siacoin (SC)
Siacoin is the native token for Sia – a software that allows any computer running on it to rent out unused hard drive space to users looking to store their files.
Dubbed the "Airbnb of hard drives," Sia actually works a lot like Filecoin. Files stored on the network are broken into pieces, so only a portion is stored on any one hard drive. The files are also encrypted, so they are safer and unauthorized access is prevented. Anyone looking to store files on another user's hard drive will have to pay using Siacoin.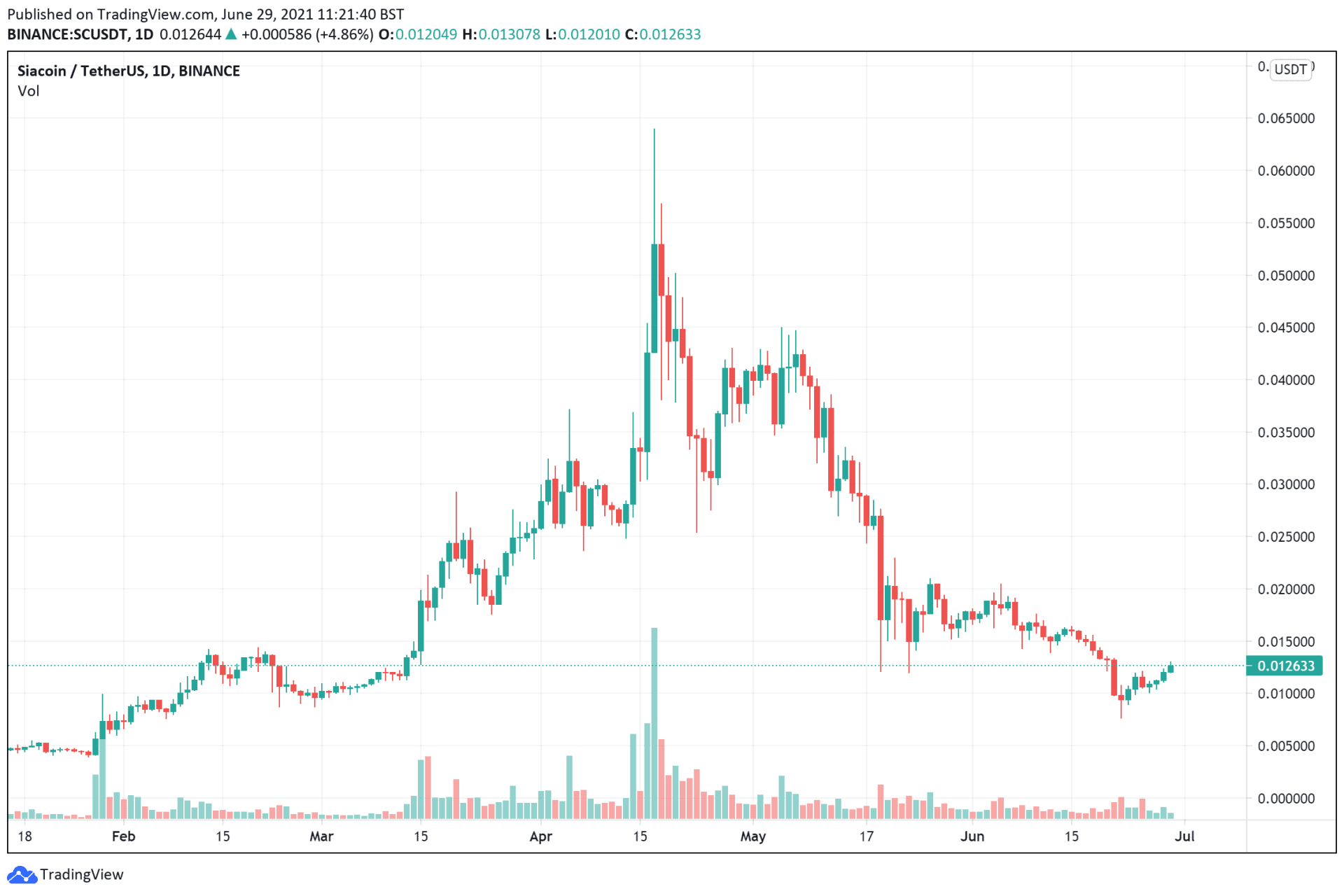 Ranked 93rd on CoinMarketCap's list, SC has a market cap of $597 million. The asset has a current price of $0.012 – up 2.45 percent in the past 24 hours.
SC started 2021 with a price peg of $0.0055. It quickly rose to $0.064 in April, meaning that the downturn started to affect it much earlier than many other large-cap cryptos. SC bottomed out at $0.0075 last week, making its current price peg a 60 percent consolidation in less than 7 days.
The current consolidation has helped SC quite well. The asset remains underbought with an RSI of 42.36, and it looks set to break its 20-day MA of $0.013 soon. Short and long-term investors should definitely keep this one in mind.
5. Ocean Protocol (OCEAN)
Ocean is an open-source protocol that allows individuals and businesses to monetize and exchange data and other data-based services. Built on the Ethereum blockchain, Ocean uses "datatokens" to grant access to data sets. Users who need access to these data will have to redeem the tokens.
With Ocean, users who need access to data storage will easily gain access to storage service providers. In return for their work, storage service providers get OCEAN. The token is multipurpose, being used to validate the best datatokens and allow users to buy and sell data. It also acts as the governance token for the Ocean protocol.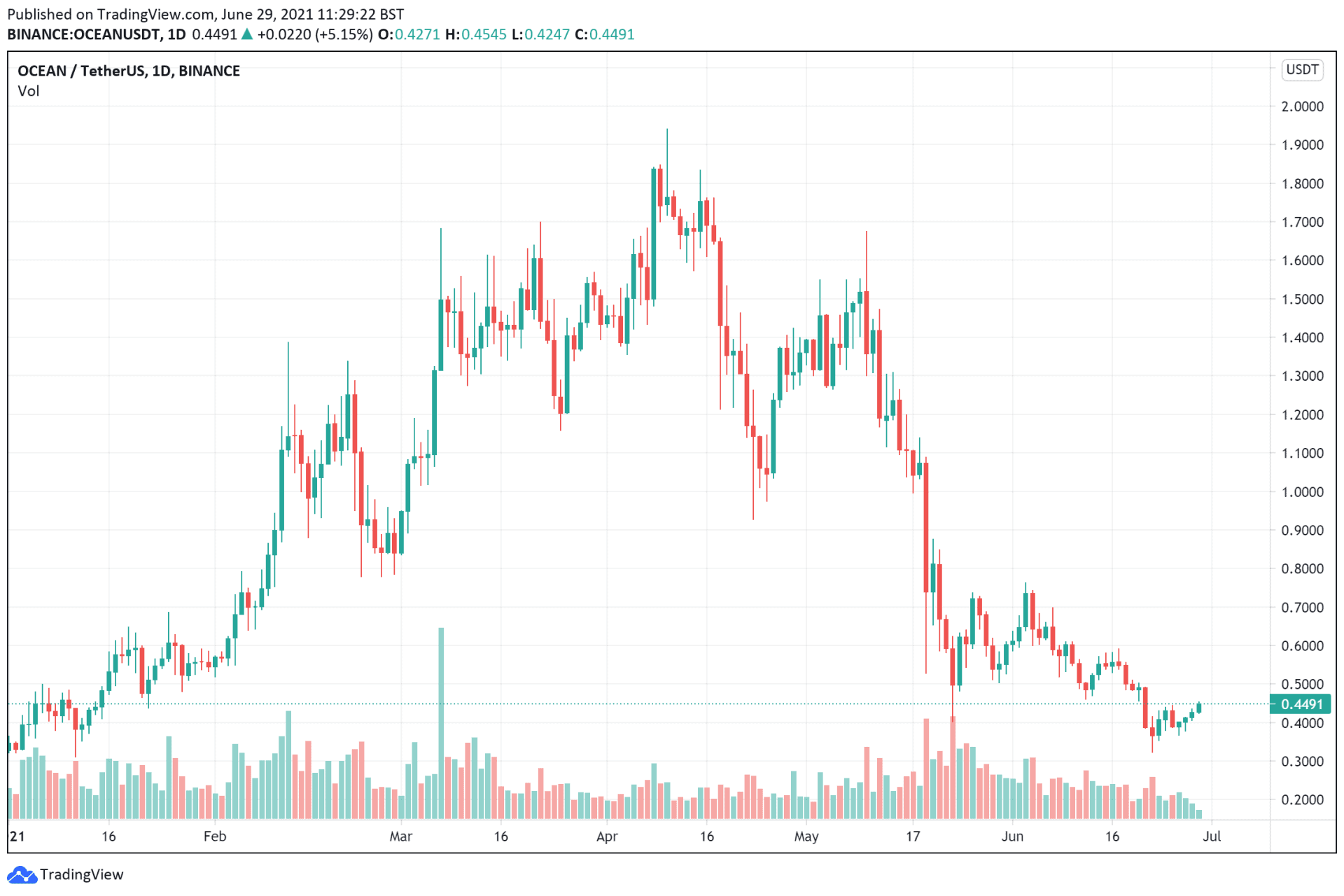 OCEAN is ranked 247th on CoinMaketCap with a market cap of $275 million. It has jumped by 98 percent in the past 24 hours, with a price peg of $0.4491.
After starting the year at $0.35, OCEAN jumped to an all-time high of $1.935. It had started dipping before May's downturn hit, but the downturn caught the asset at around $1.65 and dragged its value to $0.40 in less than two weeks.
OCEAN eventually bottomed out at $0.32, and it's been consolidating since. With a 41.50 RSI and a 20-day MA of $0.4721, OCEAN looks to be in a strong position technically.
Capital at risk