Axie Infinity, Decentraland Soar as NFT Space Recovers
Share this article
Axie Infinity's AXS token is up 31% in the last 24 hours, with Decentraland's MANA token up 18%. 
Axie Infinity, Decentraland Soaring
NFT tokens are riding a bullish wave.
Axie Infinity's AXS token is on an upward trend, breaking the all-time high of $10.67 achieved in April. The token is currently worth $13.49, up 31% in the last 24 hours. It's risen 192.8% in the last week. 
Another popular NFT-based game, Decentraland, has also seen an 18% jump in the last 24 hours. 
Both games allow players to buy plots of land in an in-game world to build bases and gather resources. These plots of land are represented as NFTs. There is a finite amount of land available in the games, so competition is fierce. An Axie Infinity player recently purchased a parcel of in-game land on the marketplace for $376,000. 
For Axie Infinity, players also need to buy a set of three NFT creatures, known as "Axies," to play the game. To create Axies, players breed the Axies they already own to then sell on the marketplace. The breeding process consumes 4 AXS tokens every time an Axie is born. As more people want to play the game, the demand for Axies increases, driving more Axie breeding, which consumes more tokens. Deflationary pressure from Axie breeding may partly explain why the AXS token has seen massive gains over the past week.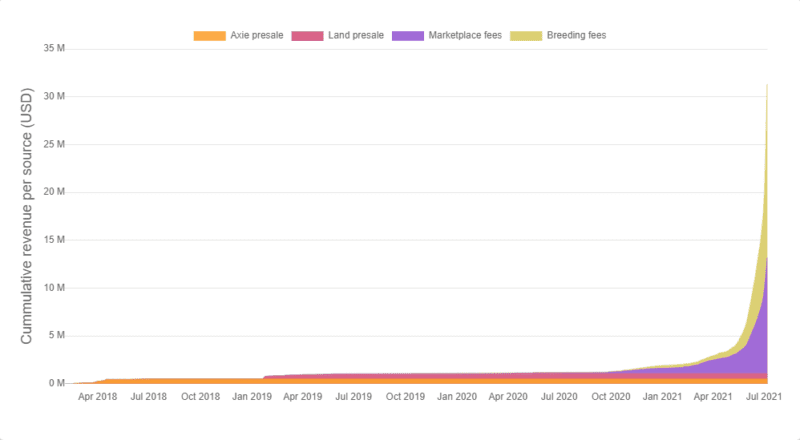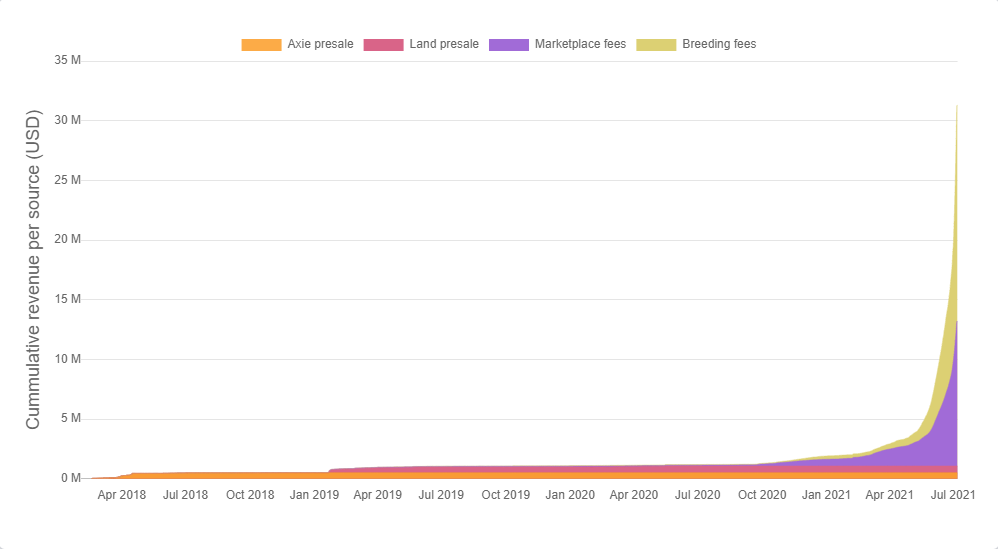 Moreover, AXS holders earn a portion of the revenue the protocol generates. According to data from Token Terminal, Axie Infinity has brought in $13.6 million in the last week, far surpassing every major DeFi protocol combined.
The NFT space has seen something of a resurgence in recent weeks, with a wave of avatar-based projects like Bored Ape Yacht Club, Wicked Craniums, and Cool Cats gaining traction across the community. With games like Axie Infinity also increasing in popularity, their associated tokens are beginning to outpace the rest of the market.
Disclosure: At the time of writing, the author of this feature owned BTC and ETH. 
Share this article
Playing Crypto Games for a Living Is More Than Just a Meme
While games such as World of Warcraft originally blurred the line between in-game economy and real money, games on the blockchain take this to the next level.  And for many,…
Gamers Can Now Earn Extra AAVE Tokens While Playing Axie Infinity
DeFi platform Aave has announced a partnership with Axie Infinity, a Pokémon-like game on Ethereum. The partnership begins on Nov. 9.  AAVE Tokens up for Grabs on Axie Infinity In…
What is Polygon (MATIC): Ethereum's Internet of Blockchains
In terms of both decentralized app (DApp) development and adoption, no blockchain has been more successful than Ethereum (ETH). But despite its relative success, the Ethereum network still contains several…
Decentraland Goes Live on Ethereum Blockchain
Decentraland has gone live on the Ethereum, opening its blockchain-based virtual world to the public for the first time after raising $24 million in its 2017 ICO. Users can now…