Bitcoin Looks Primed to Run to $47,000
Key Takeaways
Bitcoin has claimed $40,000 as support, generating a short squeeze. 
More than $180 million worth of short positions were liquidated as prices rose.
With shorts liquidated, BTC could climb to $47,600. 
Share this article
Bitcoin has sliced through a crucial resistance level that was preventing it from achieving its upside potential.
Bitcoin is Breaking Out
Bitcoin looks ready to rally.
Doubters have been trying to short the asset in recent weeks, but prices continue to rise. Data from Bybt shows that more than $180 million worth of short positions were liquidated over the last few hours. It seems like the break of the $41,000 level led to a short squeeze, pushing BTC further up. 
Although there are a few technical reasons to be leaning bearish in the mid-term, the short-term future looks bright. 
Bitcoin has claimed the 100-day moving average as support once again and made a higher high. These developments suggest that BTC now has the buying pressure it needs to tap the 200-day moving average at $45,000 and advance further. 
The descending triangle where Bitcoin broke out on Jul. 26 forecasts that the recent run-up will extend toward $47,600. This outcome would depend on the leading cryptocurrency's ability to move past the 200-day moving average. 
Although the technicals suggest the 200-day moving average could act as significant resistance on the way up, the transaction history shows there aren't any significant supply barriers ahead. The only interest area that may absorb some of the buying pressure seen recently sits between $42,650 and $43,900. 
At this level, nearly 30,000 addresses have previously purchased over 350,000 BTC. 
It's possible that investors within this price range will try to break even in their underwatered positions, thereby slowing down Bitcoin's uptrend. Nonetheless, another increase in buy orders around the current price levels that allows BTC to slice through this barrier may be the only thing needed to achieve its upside potential.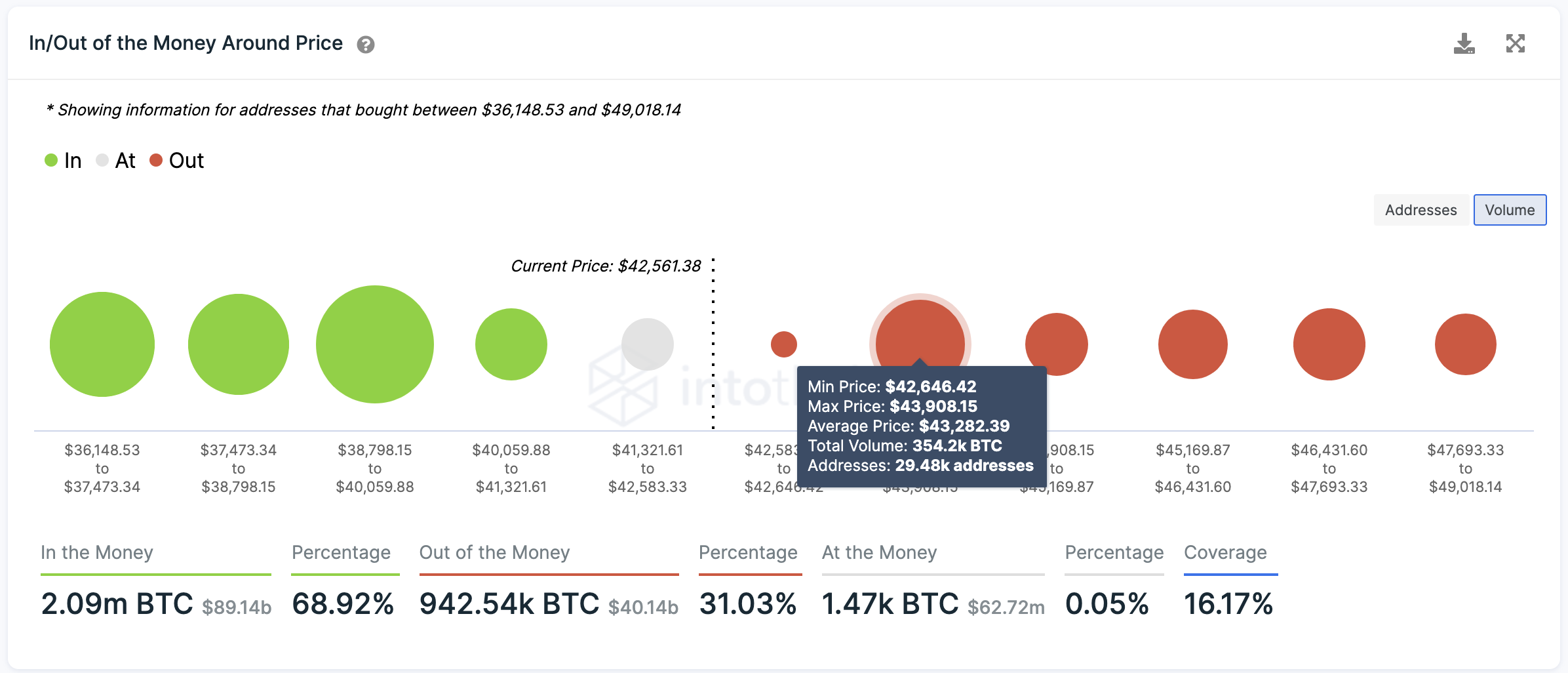 It is worth noting that now that the $40,000 level has been turned into support, it will likely play a vital role in Bitcoin's uptrend. A sudden spike in profit-taking that pushes BTC below this demand wall could lead to a steep correction.
The most significant support levels below $40,000 sit at $35,000 and $29,500. 
Share this article
Marathon Digital Buys Another 30,000 Bitcoin Mining Rigs
Marathon Digital has agreed to purchase 30,000 Bitcoin mining machines from producer Bitmain in a deal worth over $120 million.  Marathon Digital Increases Mining Capacity Marathon Digital has bought 30,000…
What is Impermanent Loss and How can you avoid it?
DeFi has given traders and investors new opportunities to earn on their crypto holdings. One of these ways is by providing liquidity to the Automated Market Makers (AMMs). Instead of holding assets,…
Grayscale Advances Bitcoin ETF Plans With New Hire 
Grayscale Investments has hired a new global head of exchange-traded funds to lead the conversion of the company's GBTC trust into a Bitcoin ETF.  Grayscale Hires Global Head of ETFs…
How Twitter Could Integrate Bitcoin Into its Products
Twitter CEO and long-time Bitcoin bull Jack Dorsey has suggested several ways his social media company could integrate Bitcoin into its products.  Twitter Looks to Integrate Bitcoin Twitter may soon…